Osteopathic Manipulation
Osteopathy (ah-stee-AH-pah-thee) is an approach to wellness that focuses on reawakening the body's inherent capacity for healing...It is a holistic medical practice pioneered in the late 1800's by a medical physician named Andrew Taylor Still.
Dr. Still (1828-1917) developed a system of health care which incorporated the use of manual medicine. It is based on the theory that the body is capable of an innate healing ability when in normal structural relationship, when it has favorable environmental conditions and when adequate nutrition is maintained.
The art and science of Osteopathy are based upon the following principles:
The body is a self-regulatory and self-healing mechanism.
Structure governs function.
All body systems are interrelated.
Osteopathic medicine is dedicated to the treatment and healing of the entire patient. It is a science which has, for more than a century, recognized the fact that the body works as one harmonious system with an interdependent relationship between anatomy (structure), physiology (function), mind and spirit. A disturbance in one system can alter the function in any or all other systems.
It's art lies in the application of its diagnosis and treatment. The Osteopath is trained in gentle palpation in order to feel the body's "living anatomy." We learn to palpate (feel) the structural form, tissue texture changes, subtle motions and the flow of fluids within the body. The Osteopath then addresses health problems with a non-invasive medical system known as Osteopathic Manipulative Medicine or Treatment in order to restore normal function in areas impaired by trauma, chronic illness, or acute health problems. The removal of restricted areas produces free motion that enables the inherent healing systems to work unhindered.
Dr. Maria T. Gentile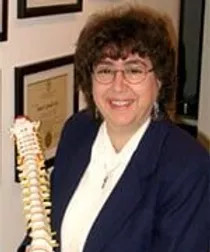 Osteopathic Physician – was the founder of a Colorado Osteopathic practice.
Dr. Gentile is a retired board-certified Osteopathic Manipulative Medicine (OMM) Specialist. She dedicated her later years of study to this profession after osteopathic treatment helped her recover from a serious whiplash injury resulting from a motor vehicle accident in December 1992.
Born and raised in New York City, Dr. Gentile stayed in her home town to complete a Bachelor's and a Master's degree in Microbiology. She worked as a microbiology supervisor and breast cancer researcher at Memorial Sloan-Kettering Cancer Center and completed her premedical study at Hunter College in New York.
Dr. Gentile received her medical degree from the University of North Texas Health Science Center/Texas College of Osteopathic Medicine where she remained an extra year to teach OMM as a Predoctoral Teaching Fellow. After medical school, Dr. Gentile completed a traditional internship by a specialty residency in Neuromusculoskeletal and Osteopathic Manipulative Medicine at St. Barnabas Hospital in Bronx, N.Y. At St. Barnabas, she acquired extensive experience in the treatment of pregnant woman, newborns, children and medical/surgical patients of all ages.
Dr. Gentile is interested in the integration of standard and alternative medical philosophies. She has been board certified by the American Board of Integrative and Holistic Medicine, the American Board of Integrative Medicine and is a member of the Academy of Integrative Health and Medicine.
Dr. Gentile was dedicated to the service of her patients...the heart of her practice.
Dr. Gentile is grateful to all the wonderful practitioners and staff of her Osteopathic and integrative medicine practice who helped make it the loving and caring office it was: Lauren J. Ramsay, PA-C, Maria B. Lee, L.Ac., Anita Silsby, LMT, Bethany Remington, Peanut, and Sunny.